Alumina-Zirconia bricks
Date:2016-12-13 / Popularity:
10000T/D production line is with feature of large kiln diameter, complicated thermal situation and strong mechanical stress, it requires the refractory material with excellent abrasion resistance, thermal shock resistance and high refractoriness under load.
Junyao deveop the Alumina-Zirconia bricks on the base of GMH brick. This product is formed by 2500T automatic press under high-pressure and calcined by self-control ultra-high temperature gas tunnel kiln with raw material such as dense bauxite, 98 silicon carbide, mullite(fused, natural),
fused
alumina
zirconia
etc, and synthesized micro powder. Alumina-Zirconia bricks have been used in the 10000T/D kiln of Conch group, Xuzhou CUCC, Jining CUCC etc.
This series of products are applicable to the kilneye and the front&back transitional zones, it can totally replaced the imported spinel bricks.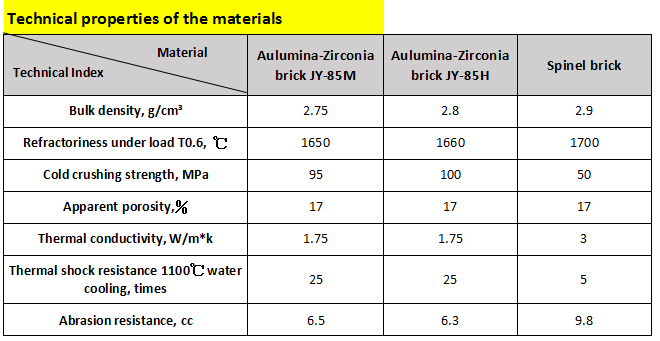 Above data is theoretical value
Edit:JUNYAO
---