Energy conservation of GMH Bricks
Date:2016-12-13 / Popularity:
In the past, imported spinel bricks are used as refractory materials for the front transitional zone of large cement kilns. As China's cement market is growing, price competition is becoming more and more furious. Imported spinel bricks are expensive with huge heat loss, which are not an ideal choice for energy conservation and emission reduction. In order to reduce clinker cost and raise market competitiveness, Conch Group and other cement producers propose the target to produce domestic refractory materials and reduce energy cost.
In order to meet the demands of cement producers and the market, Junyao developed GMH Bricks in 2002. With good resistance to abrasion, sound stability in thermal shock, long service life, a low heat conductivity coefficient, and excellent energy conservation, the bricks have been successfully used in China National Building Material Group, Conch Group, China Resources, Huaxin Group, Hongshi Holding Group, infeng Group, Qingshi Group, and Tianshan Cement etc.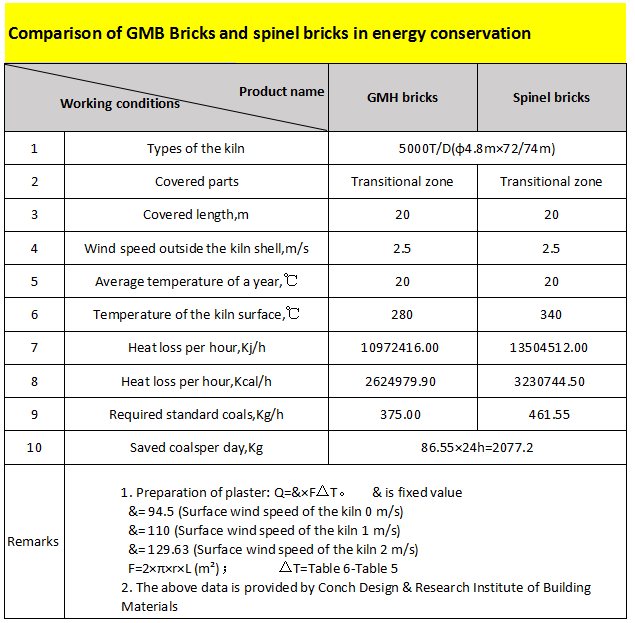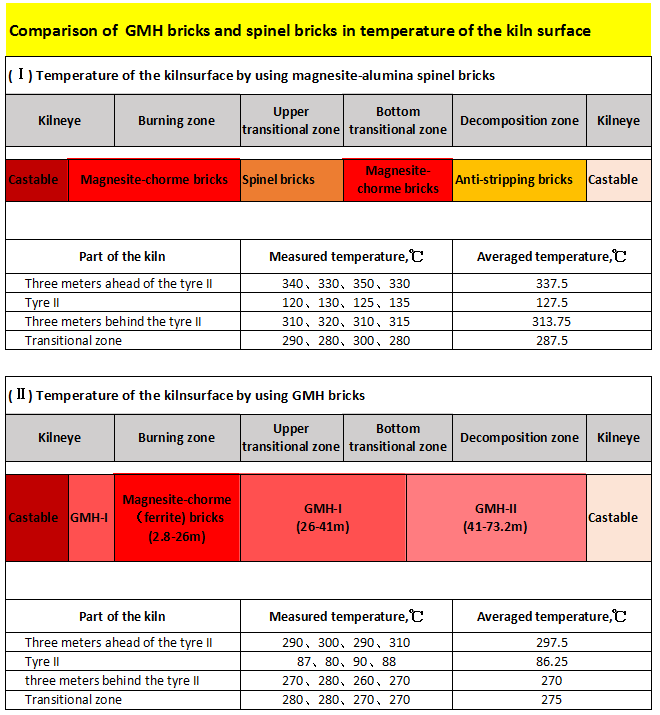 Above data is theoretical value
Kiln coating often fall off due to frequent temperature changes of the transitional zone, especially parts around the tyre Magnesite chrome bricks or spinel bricks cannot be sticked firmly with the kiln coating, and thus have high heat conductivity coefficient and bad stability in thermal shock; since the heat conductivity coefficient of the brick is over 2.6W/M·k, which will cause high surface temperature of the kiln and heat expansion. This will exert huge pressure on the riding wheel in the middle of the kiln and affect normal operation equipment; the bricks even have shorter service life at areas around the tyre than the burning zone. Since GMH Bricks have a much lower heat conductivity coefficient (≤1.7W/M·k) than magnesia-alumina spinel bricks. Therefore the surface temperature of the kiln of GMH Bricks is 40℃ than that of magnesia-alumina spinel bricks, which can save energy, reduce equipment weight, and protect equipment. Thanks to high temperature strength, good abrasion resistance, and sound stability in thermal shock, GMH Bricks are particularly suitable to the transitional zone of tyres.
Edit:JUNYAO
---